by Michael Tarsala
The S&P 500 broke through its trendline from the June and July lows in early Monday trading, led lower by worries about Europe and slowing growth in China.
The next S&P area of interest is the 1310 technical retracement area, which also is marked by support at the late June lows.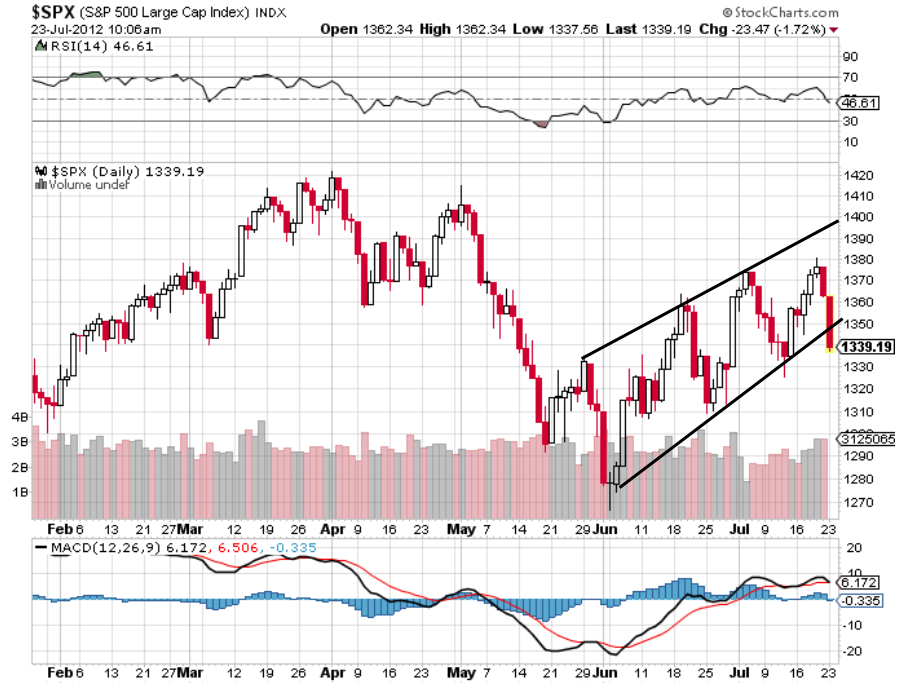 Here's a brief rundown of the latest concerns:
Market breadth is strongly negative, with more than 75% of U.S.-listed stocks declining, about 10% advancing, with the rest unchanged.
The VIX is back above the 20 level for the first time since late June; it had reached complacent levels of less than 16 late last week.
Ten-year U.S. Treasuries reached an all-time low in European trading early in the session, on a global flight to safety. The yield in mid-morning trading was 1.42%.
Greece is back in the news. The IMF said it will continue to support Greece. However, Der Spiegel magazine in Germany reported on Sunday that it would not provide the country with additional funds.
The euro fell again versus the dollar, and is now testing $1.20. Weaker currency was one of the main reasons McDonald's posted a lower-than-expected profit.
Spanish and Italian bond yields surged; Also, large Italian banks were briefly suspended from trading after hitting 10 percent loss limits.
The Shanghai Index is now trading at its lowest levels since March 2009. An official said economic growth will likely slow this quarter. Also, Japan cut its economic outlook for China.