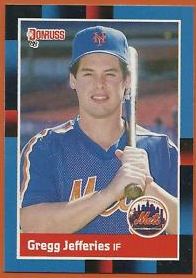 By Bespoke Investment Group
If you are a trader who has dabbled in baseball cards, you most likely remember the story of a former New York Mets prospect named Gregg Jefferies.  In the minor leagues, Jefferies was a superstar prospect, where the sky was the limit in terms of the potential in his future major league career.  As a result of the hype, in 1988 his Donruss Rookie Card was worth well over $75 even though he had no record as a major league player.  People were just buying into the hype.
When he did finally play in the big leagues, Jefferies career as a Met was mediocre at best.  Today, you can buy the same rookie card that went for well over $75 back in 1988 for $1.
While it has been less than two weeks now, shares of Facebook (FB) are quickly becoming the Gregg Jefferies of the stock market.  Two weeks ago, pundits were speculating that shares of Facebook (FB) would trade to "at least $80" on the day of the IPO as everyone and their mother was seemingly willing to pay any price for a piece of the IPO.  For the last two years, Facebook (FB) was the star of SecondMarket, the alternative market for trading in private companies that have yet to make the leap into the public market.
When Facebook (FB) finally did go public, though, its first day of trading was marred by glitches and delays.  As a result of this and the fact that the company raised the size and price of its offering, the shares have lost nearly a quarter of their value, dropping from an IPO price of $38 to $28.83 today.
In fact, since Facebook (FB) came up to the 'big leagues' of the public markets, no other company has destroyed more shareholder value.  With a decline in market value of nearly $22 billion since the close on 5/18, not only does Facebook (FB) have the lead, but everyone else is trailing far behind.  The next largest decline in market cap since 5/18 is Dell, which has seen a relatively paltry decline of just $3.6 billion.  In fact, Facebook (FB) has lost more in market cap since 5/18 than the total market cap of the next nine largest market cap decliners combined.
Two weeks ago, many investors were hoping to make a quick profit on the IPO of Facebook (FB).  Who knew that less than two weeks later, it would rank as the biggest wealth destroyer as far as IPOs go in history.
While Gregg Jefferies never came close to living up to the hype as a Met, he did make two All-Star games later in his career as a Cardinal.  The one thing Facebook has going for it is it's still a rookie.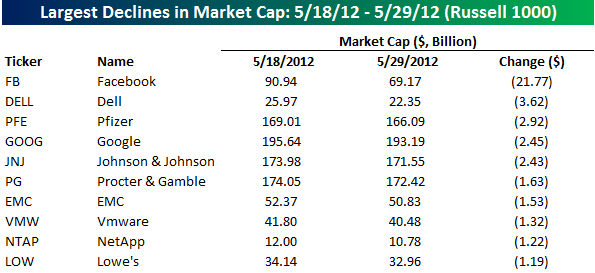 Data: Bespoke