by Michael Tarsala, CMT
It's the fourth CEO in five years at Yahoo (YHOO), and yet maybe — just maybe — the outlook is not so bad.
Activist investors are now more involved, with three appointees from 5.8% owner Dan Loeb's Third Point LLC joining Yahoo's board this week.
It's hard to believe that new management and a few new board members are going to turn this story around overnight.
Yet they might start managing this company more for value, tapping into Yahoo's tangible book value, and possibly doing things like offering a more aggressive buyback. They may slowly start righting the ship. Or both.
Yahoo does have three things going for it:
1) This is not a stock that is highly correlated to the market; it is doing its own thing this year. So the near-term market weakness may have less of an effect on Yahoo than the headline news coming out of the company in coming months.
2) There is well-defined technical risk. Check this chart: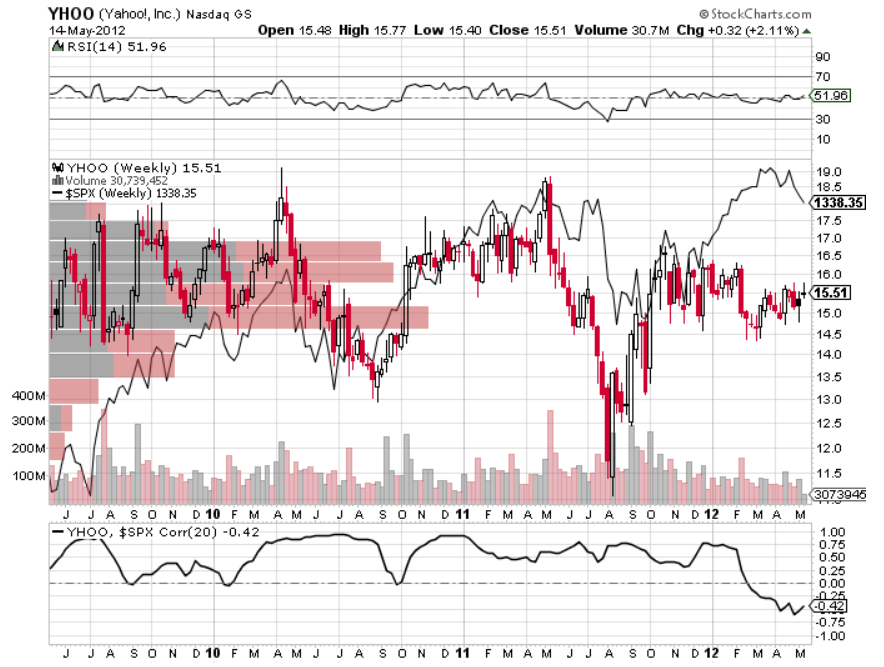 Source: Stockcharts.com
There is a sideways bias. The volume-at-price bars to the left of the chart above act as a magnet for the stock price going forward. It would take a close below $14.50 to knock the stock out of what is now a strong consolidation.
3) Here you see Yahoo shares relative to the Nasdaq 100 (NDX):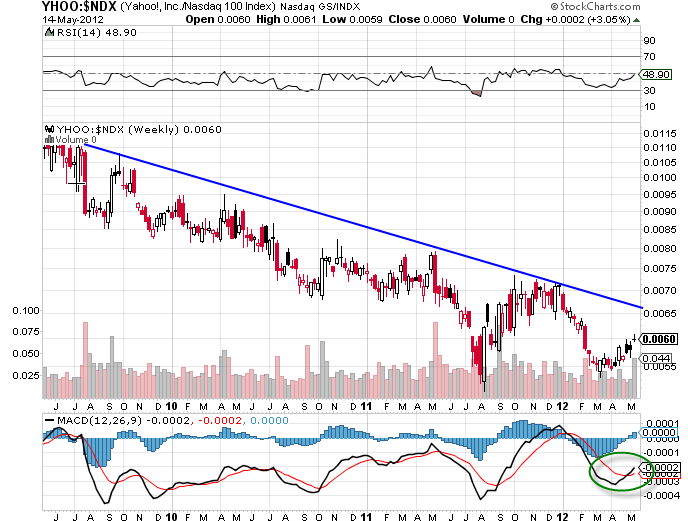 Source: Stockcharts.com
Is this a strong chart? No. But with the MACD crossover, there is now reason to think Yahoo has upside relative to the market in coming months, up to test the trendline in blue.
I consider that the benefit-of-the-doubt bias granted yet another new management team, with a break to the upside above the blue line a more remote possibility, based on what management can put together.