by Michael Tarsala, CMT
Want to know where stocks are headed next?
Ask a forex analyst.
Currencies can provide a heads-up to where equity markets are headed several months out.
Right now, those markets suggest a large extension of the rally since October is unlikely — and so is a crash.
"A lot of stuff in foreign exchange is moving sideways, and in general, equities tend to lag forex to a degree," explains John Forman, senior foreign exchange analyst at Thomson Reuters — IFR Markets, and author of "The Essentials of Trading". "So I would look for equities to also be moving sideways in the months ahead."
Forman is not the only one looking for stock cues in the currency pairs. Cam Hui, a portfolio manager at Qwest Investment Fund Management Ltd., recently made a similar argument. He says that recent equity moves are sideways chop unless we get more risk-off signals from forex and bonds.
Here are what some of the major currency trades are doing: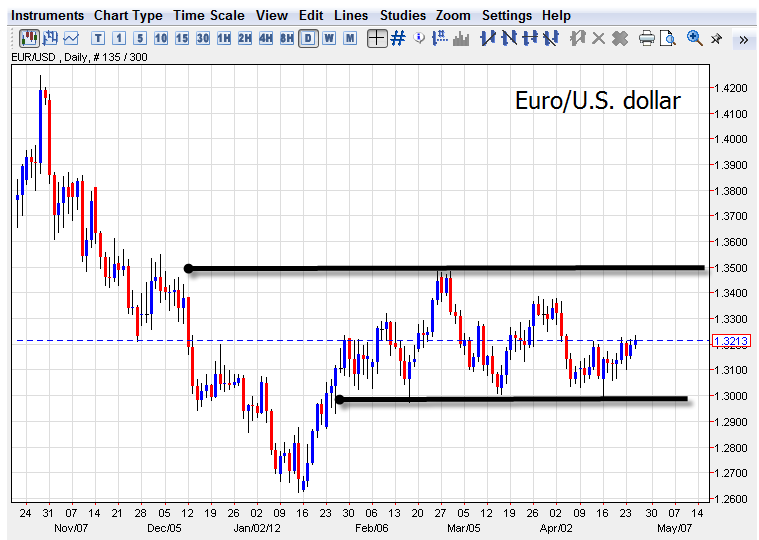 Source: dailyfx.com
The Euro/US Dollar pair, above, has been moving sideways for most of the year, within the $1.30 to $1.35 range.
Source: dailyfx.com
Similarly, the US Dollar /Canadian Dollar pair has been range-bound since late January — there's no breakdown yet.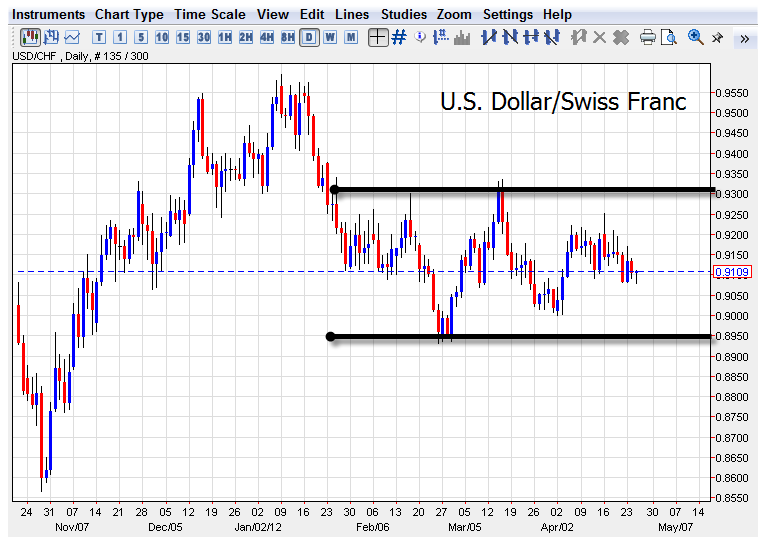 Source: dailyfx.com
Here's the U.S. Dollar/Swiss Franc. By now you get the idea.
"Everything is going sideways," Forman says. "So after a long-term uptrend for stocks, we may also see the major equity indicies also going sideways here."
In forex, the bottom of trading ranges can be places to take on new positions or selectively add to existing ones. And the tops of ranges can be a place to short new positions, or selectively trim back exposure.
If equities end up following the forex markets in the months ahead, similar swing-trading strategies may also apply for stocks.