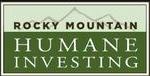 Rocky Mountain Humane Investing (RMHI) was founded by Brad Pappas in 1995 and is based on The White Dog Ranch northwest of Boulder, Colorado. The firm is a fee-only investment advisor that manages assets for both individuals and non-profit organizations.
RMHI is unique in its focus on humane treatment of animals within the socially responsible investing sphere. From RMHI's website:
RMHI's founder, Brad Pappas is believed to have been the first to establish Humane issues within socially responsible investing screening criteria. Furthermore, RMHI was the first investment management firm to incorporate hard screening for both Humane and Ecological issues. Since he established the first effective screen for animal issues in 1990, his screens have been consulted by investment managers and mutual funds nationwide.
The firm's investment process is a blend of quantitative analysis, focusing on bottom up value and price momentum. They invest with an intermediate time frame, and tend to focus on small and micro cap companies with a minimum of $50 million capitalization.
RMHI manages Covestor's new RHMI Evergreen model. Current positions (6/2) include:
Kindred Healthcare (NYSE: KND), a healthcare services company that operates hospitals, nursing and rehabilitation centers, assisted living facilities and a contract rehabilitation services business across the United States.
Exide Technologies (NASDAQ: XIDE), a provider of stored electrical energy solutions, and manufacturers and suppliers of lead-acid batteries for transportation and industrial applications worldwide.
Crawford & Co (NYSE: CRD.B), a provider of claims management solutions to insurance companies and self-insured entities, with a global network of more than 700 locations in 63 countries.
PC Mall (NASDAQ: MALL), a direct marketer of technology products, services and solutions to businesses, government and educational institutions and individual consumers.
Mercer International (NASDAQ: MERC), which operates in the pulp business and is a producer of market northern bleached softwood kraft (NBSK) pulp.
If you're interested in a socially responsible portfolio with particular emphasis on animal welfare, please explore it further: RMHI Evergreen model