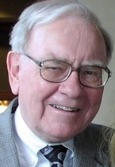 Warren Buffett published his annual letter to shareholders on Saturday. In his typical folksy manner, the Oracle from Omaha touched on such complex topics as performance measurement and capital management, the importance of workplace culture, succession planning at Berkshire Hathaway (BRK.A and BRK.B) and his plans for another major acquisition in the near term, saying:
Our elephant gun has been reloaded and my trigger finger is itchy.
David Merkel of The Aleph Blog wrote an analysis of the letter which discusses each of the topics covered in Buffett's newest letter.
Almost as a side note to Buffett's letter was the actual performance of Berkshire Hathaway, which saw fourth-quarter profit jump 43% and book value increase by 5% (a measure of performance that Buffett promotes in his letter).
The markets cheered Buffett's letter and Berkshire's performance, sending the shares of BRK.A up 2.94% and BRK.B up 2.84% in Monday's (2/28) trading.
Covestor model portfolios that contain BRK.A or BRK.B at the market close on 2/28/2011:
Suncoast Equity from Suncoast Equity Management
Buffett Plus from Robert Foo
Long-Term Conservative from Ryan Lee
Performance with Protection from Leif Eriksen
Long-Term Value from Sreeni Meka
Sources:
"Berkshire profit up 43%; acquisitions eyed" Jeffry Bartash and Shawn Langlois. MarketWatch, 2/26/11. https://www.marketwatch.com/story/berkshire-profit-up-43-in-fourth-quarter-2011-02-26
"Critical Analysis of Buffett's Annual Letter" David Merkel. The Aleph Blog, 2/27/11. http://alephblog.com/2011/02/27/critical-analysis-of-buffetts-annual-letter/