Model manager Yinglan Tan looks for venture-backed equities that have the possibility of long-term growth and predictable earnings for his Venture Capital – Aggressive model. This week he added SINA (NASDAQ: SINA), which has a service called Weibo that has been called the Chinese Twitter, to the model. In January, SINA announced that its membership was growing by 10 million users each month.  But the company isn't just limiting its service to social media; SINA recently launched a Paypal-like service called, Sina Pay. They also recently received a $100 million investment by the Chinese search engine, Baidu (NASDAQ: BIDU).
SINA is not exempt from the internet censorship experienced in the People's Republic of China and recently, search results for the word, "Egypt" have been turned off on SINA. This is especially interesting since it is an internet shut down that was associated with some of the current troubles in Egypt. SINA's 52 week range on February 5th was $32.00 to $91.10. On February 4th, it closed at $91.09 after having risen 3.12 percent from its February 3rd closing price of $88.33. SINA is scheduled to announce its earnings on February 28th.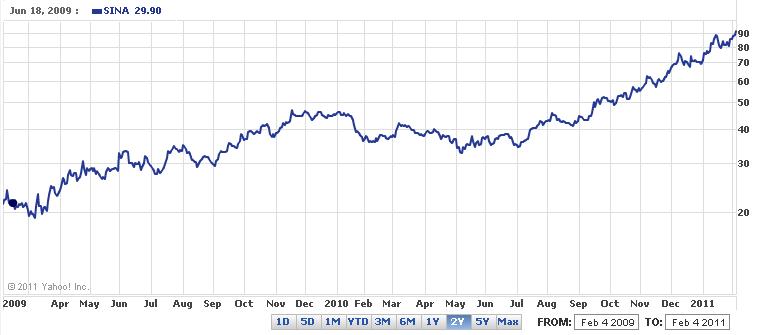 *Prices and charts courtesy of Yahoo Finance.