By: Gerald Sparrow President & Founder, Sparrow Capital Management, Inc.
The initial read on Q4 Gross Domestic Product (GDP) gets released on January 26, and private economists and Federal Reserve estimates have very different economic outlooks.
In the accompanying, you can see that the Atlanta Fed's GDPNow is anticipating a number near 3.5 percent. On the other hand, the consensus estimate of private economists sees a number in the 1.75 percent range, with the most optimistic in the group projecting 2.8 percent.1
GDPNow is a running estimate of real GDP growth based on available economic data. The Blue Chip Consensus compiles the forecast from 50-plus economists at the nation's largest and most respected companies and financial institutions.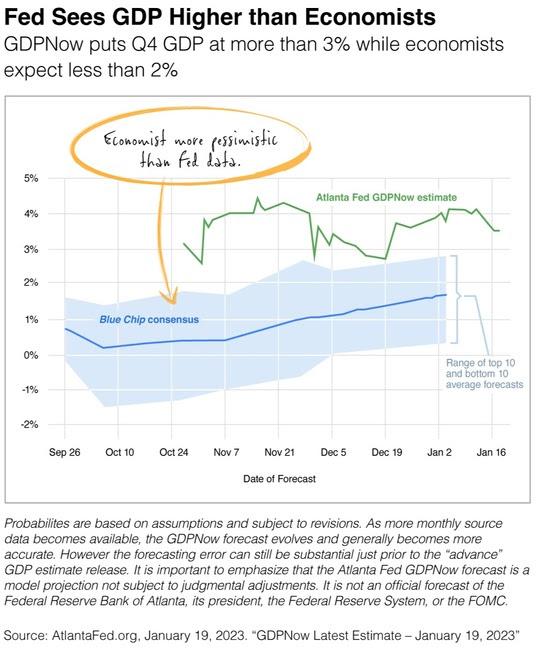 The good news? The GDPNow estimate and projected growth in Q4 mean any recession talk may move to 2023. But we will have to wait until April 27, 2023, to get an initial estimate of Q1 GDP for 2023. Put another way, by the time any recession is official, the economy may have moved into another part of the business cycle.
I work with a group of professionals who help me keep an eye on the outlook for GDP, inflation, and other economic trends. If I notice a trend emerging with any critical economic indicator, I'll bring it to your attention as soon as possible.
1. AtlantaFed.org, January 19, 2023. "GDPNow Latest Estimate – January 19, 2023".
PHOTO CREDIT: https://www.shutterstock.com/g/JoPanuwatD
Via SHUTTERSTOCK
DISCLOSURE

Investing involves risk, including the possible loss of principal. Diversification does not ensure a profit nor guarantee against a loss.
This material represents an assessment of the market environment at a specific point in time and is not intended to be a forecast of future events, or a guarantee of future results. This information is not intended to be individual or personalized investment or tax advice and should not be used for trading purposes. Please consult a financial advisor or tax professional for more information regarding your investment and/or tax situation.