The third quarter has come and gone in a flash, and the fourth quarter has taken on a life of its own. In my opinion, the parallels today have grown increasingly like that of the late-1990s.

During that period, if a company announced they were starting a website or adding a ".com" to their corporate name, it would send a stock instantly soaring. Today, that has been replaced with terms like EVs or crypto in my view.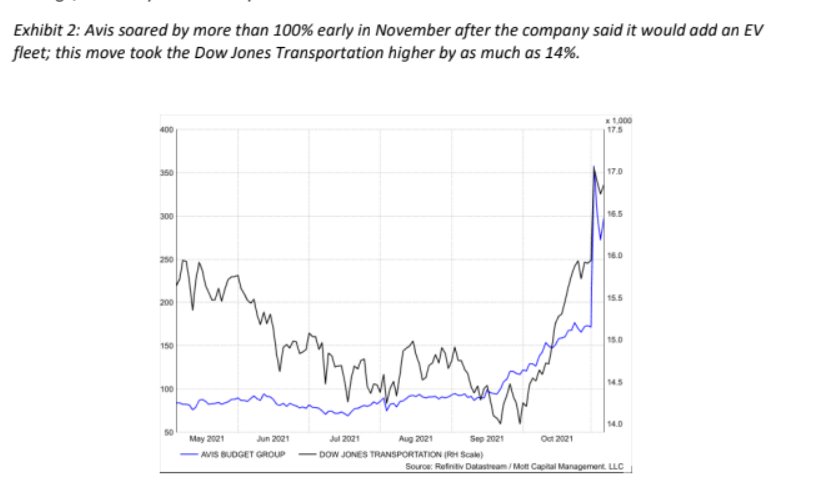 Additionally, I believe the stock market has grown increasingly unstable thanks in part to the power of social media and the ability of the collective to move stocks hundreds of percent in minutes through the use of options.

Avis Surge

For example, on November 2, shares of the rental car company Avis (CAR) surged by more than 200% in a matter of 90 minutes after the company said it would soon have a fleet of EVs as part of its rental program.

This news sent the market cap soaring from around $9 billion to over $16 billion by the day's end. Overall, this price action resulted in a significant market proxy, the Dow Jones Transportation Average, to soar by 14% intraday.

In my opinion, today's excess makes the 1990s look like child's play by comparison. The late 1990s just started to adopt online trading accounts, and options were more
complex and more expensive to trade.

Low Rates

Today, the popularization of mobile apps makes buying and selling stock more accessible than ever, and the low-interest-rate environment makes access to low-cost leverage even easier.

Coupled with inexpensive options trading, the current period is far more dangerous, in my opinion, than anything witnessed in the late 1990s from a retail trading standpoint.

Allscripts (MDRXD) is an electronic health record platform. Over the past year, I have spent a lot of time in and out of the doctor's office, along with imaging and procedures due to my back injury.

I discovered the ease of use of patient portals, which helped me quickly book appointments, put in for refill perceptions requests, transfer and view images, and read reports.

Software Ubiquity

All of this made me realize the importance and potential
impact of this type of software on all of our lives down the road.

Another company that in my view is worth a look is Roblox, a gaming platform that allows players to interact with one another. It is much more than it seems, with players that create an online identity through an Avatar.

Additionally, there is a real economy in what is often referred to as the "metaverse," where players can buy "Robux" using a credit card.

Roblox can even be purchased and given as gift cards. At that point, players can buy homes, pets, and clothes for their avatar in the metaverse. It may seem strange to adults, but these avatars are the online presence of the younger generation.

With the amount of time and money invested in these online personifications and more than 43 million daily active users and popularization on platforms like YouTube, it seems as though this only grows in the future as the overall metaverse expands.

Photo Credit: Katerina Hlavata via Flickr Creative Commons

Disclosure

Mott Capital Management, LLC is a registered investment adviser. Information presented is for educational purposes only and does not intend to make an offer or solicitation for the sale or purchase of any specific securities, investments, or investment strategies. Investments involve risk and unless otherwise stated, are not guaranteed. Be sure to first consult with a qualified financial adviser and/or tax professional before implementing any strategy discussed herein. Upon request, the advisor will provide a list of all recommendations made during the past twelve months. Past performance is not indicative of future performance.

The Dow Jones Industrial Average, Dow Jones, or simply the Dow, is a price-weighted measurement stock market index of 30 prominent companies listed on stock exchanges in the United States. Investors can't invest directly in indexes.
Any investments discussed in this presentation are for illustrative purposes only and there is no assurance that the adviser will make any investments with the same or similar characteristics as any investments presented. The investments are presented for discussion purposes only and are not a reliable indicator of the performance or investment profile of any composite or client account. Further, the reader should not assume that any investments identified were or will be profitable or that any investment recommendations or that investment decisions we make in the future will be profitable.