By Steven Levine, Senior Market Analyst, Interactive Brokers
Fast food giant McDonald's (MCD) has joined a growing list of global corporate, government and non-profit organizations to combat antibiotic resistance, setting a potential precedent for its rivals to follow.
McDonald's has become the latest firm, and to date the sole fast food company, to participate in the U.S. Centers for Disease Control and Prevention (CDC)'s Antimicrobial Resistance (AMR) Challenge, which launched September 2018.
The Chicago-headquartered food chain is listed alongside a host of names, including Walmart (WMT), CVS Health (CVS), Merck (MRK), Roche (ROG:SW), the National Cattlemen's Beef Association, the U.S. Department of Agriculture and the U.S. Department of Defense, among several others.
Superbugs

AMR has apparently become an increasingly challenging fight for preventing and treating infections caused by bacteria, parasites, viruses and fungi.
The World Health Organization (WHO) notes that AMR occurs when microorganisms change following exposure to antimicrobial drugs such as antibiotics, antifungals, antivirals and antimalarials. Microorganisms that develop AMR are sometimes referred to as "superbugs".
As a result, medicine becomes ineffective and infections persist in the body, increasing the risk of contagion.
According to the CDC, at least two million people are infected with antibiotic-resistant bacteria in the U.S. annually, and at least 23,000 people die as a result.
McDonald's Plan
Against this backdrop, McDonald's recently said it has formed partnerships with its supplying beef producers in its top 10 sourcing markets, including Australia, Brazil, Canada, France, Germany, the UK and the U.S., to conduct antibiotic analyses across its food chain.
McDonald's aims to establish reduction targets for "medically important antibiotics" for these markets by the end of 2020 and will start reporting progress beginning 2022.
The company said it is ultimately focused on replacing the use of antibiotics with long-term solutions to prevent diseases and protect animal health and welfare.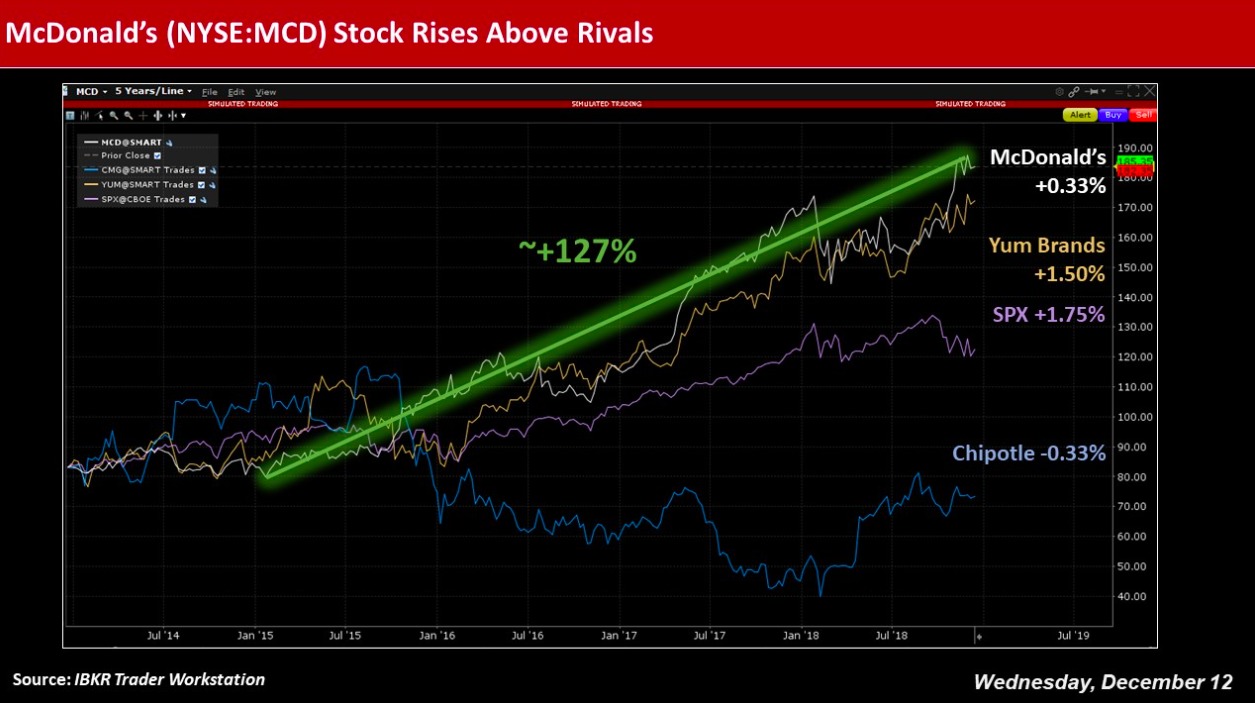 New Guidelines
To this end, McDonald's has made allowances for the immediate treatment of animals by veterinarians who deem critically important antimicrobials are the best option.
The U.S. Food and Drug Administration (FDA) recently established the Veterinary Feed Directive (VFD) rule, which provides veterinarians with a framework for authorizing the use of medically important antimicrobials in feed when needed for specific animal health purposes.
Grade 'F'
Meanwhile, McDonald's latest commitment to the CDC's AMR Challenge follows an October Chain Reaction report, which placed its lowest grade of 'F' on the iconic company for failing to have a public antibiotic use policy.
The survey, conducted by several public interest groups, including the U.S. PIRG, Consumer Reports, and the Natural Resources Defense Council, placed its lowest grade of 'F' on the iconic company for failing to have a public antibiotic use policy.
The Chain Reaction survey results showed that only two chains, Shake Shack and BurgerFi, source beef raised without the routine use of antibiotics.

Apart from Wendy's, a total of 21 companies reside alongside McDonald's as failures, including Burger King, White Castle, Hardee's, Jack in the Box, Krystal and Five Guys.
According to Chain Reaction, Wendy's currently sources 15% of its beef from producers that have cut the use of one medically important antibiotic – tylosin – by 20%. The report added that this "modest step earned Wendy's a 'D-' in this scorecard."
Outbreak
McDonald's beefed-up effort to fight AMR also trails a multi-state outbreak earlier in 2018 of Cyclosporiasis illnesses.
The Cyclosporiasis parasite has been linked in the U.S. to imported produce that has been contaminated with feces.
In mid-September, a total of 511 laboratory-confirmed cases of Cyclospora infection – likely tied to McDonald's salads – were reported in 15 states and New York City, according to the results an investigation conducted by the FDA, CDC and state and local officials.
Other recent outbreaks related to fast food chains, include two instances of E-coli infections in late 2015, which were tied to Chipotle Mexican Grill. The illnesses affected a total of 60 people across several states, with 22 having been hospitalized.
Menu Revamp
While McDonald's has been active in providing healthier menu items, other initiatives may be more instrumental in buoying the upswing in its stock.
Gimme Credit analyst Carol Levenson recently noted that McDonald's had removed artificial flavors, colors and preservatives in its 'classic' burgers, which follows other, similar changes "to promote a healthier, higher quality, and more natural image."
These changes include using fresh (not frozen) beef in the Quarter Pounder, moving to cage-free eggs, and removing artificial preservatives from its Chicken McNuggets.
Levenson said she doubts "whether these moves alone would bring back a lapsed customer," but remodeling and operational changes, including self-order kiosks, its mobile app, and delivery, are "increasing the average check, which is contributing to higher comparable sales growth."
Upbeat Outlook
In the third quarter of 2018, global comparable sales at McDonald's rose 4.2% year-on-year, reflecting a 2.4% increase in the U.S. and 5.4% in its international markets, mainly driven by performance in the UK, Australia and France.
Shareholders have generally been upbeat about McDonald's refranchising initiative and nutritional direction.
However, its competitors appear to be lagging, stoking some speculation in the market that other fast food chains may follow McDonald's lead – at least in offering healthier menu items and contributing more visibly to AMR-related efforts.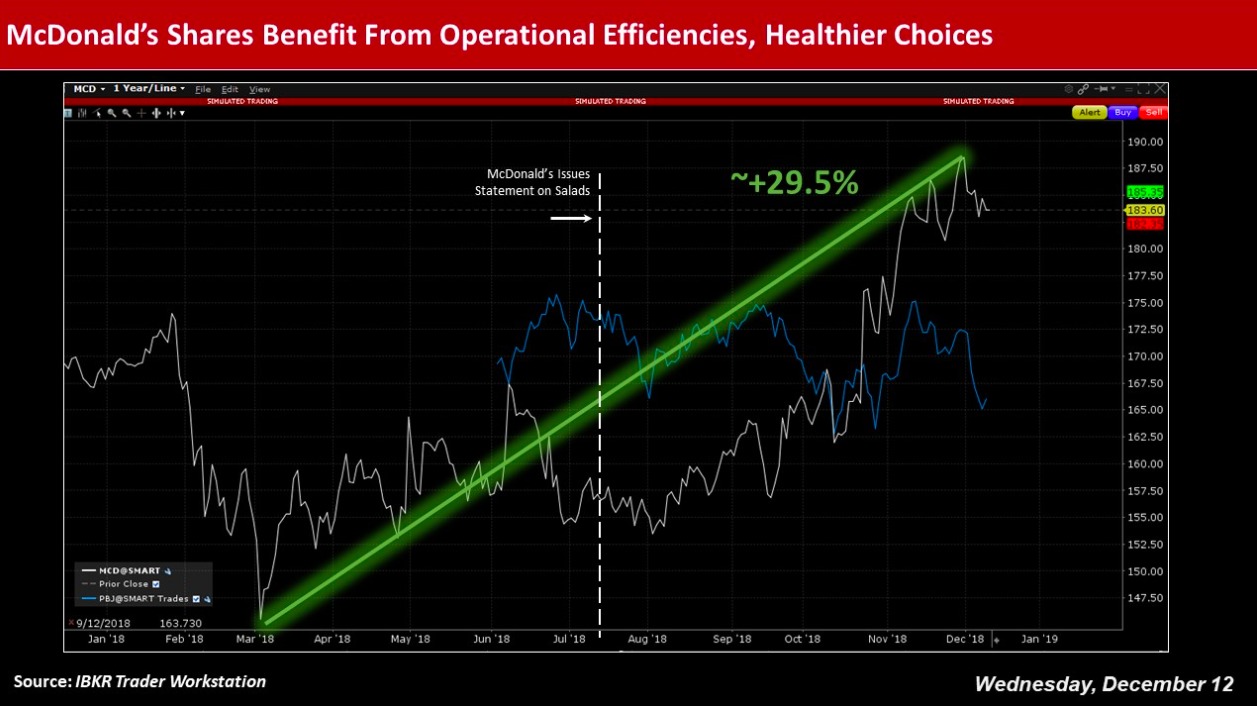 Share Performance
Shares of McDonald's have soared around 127% since setting a five-year low of US$83.02 in December 2014.
Over the past year, the company's stock increased more than 29.5% after reaching a high of US$188.51, set at the end of November, according to the IBKR Trader Workstation.
In the meantime, over the past five years, Yum Brands' (YUM) – operator of chains such as Taco Bell, KFC and Pizza Hut – has seen a stock rise of roughly 96.6%, while Chipotle Mexican Grill (CMG) has fallen about 37.6%.
Photo Credit: JJBers via Flickr Creative Commons
The author does not hold any positions in the financial instruments referenced in the materials provided.
The analysis in this material is provided for information only and is not and should not be construed as an offer to sell or the solicitation of an offer to buy any security. To the extent that this material discusses general market activity, industry or sector trends or other broad-based economic or political conditions, it should not be construed as research or investment advice. To the extent that it includes references to specific securities, commodities, currencies, or other instruments, those references do not constitute a recommendation by IBKR or IBKRAM to buy, sell or hold such investments. This material does not and is not intended to take into account the particular financial conditions, investment objectives or requirements of individual customers. Before acting on this material, you should consider whether it is suitable for your particular circumstances and, as necessary, seek professional advice.Certain of the information contained in this article is based upon forward-looking statements, information and opinions, including descriptions of anticipated market changes and expectations of future activity. The author believes that such statements, information, and opinions are based upon reasonable estimates and assumptions. However, forward-looking statements, information and opinions are inherently uncertain and actual events or results may differ materially from those reflected in the forward-looking statements. Therefore, undue reliance should not be placed on such forward-looking statements, information and opinions.