Fasten your seat belt. There's good reason to think the markets will be choppy in the weeks ahead.
After a summer of relative calm and narrow trading ranges, US stock market volatility is back with a vengeance.
On September, the S&P 500 closed at a two-month low, falling 2.5% in a single session. The Dow Jones Industrial Averageand the Nasdaq Composite Index also took a beating.
The CBOE Volatility Index, meanwhile, shot up 40% in a single trading session.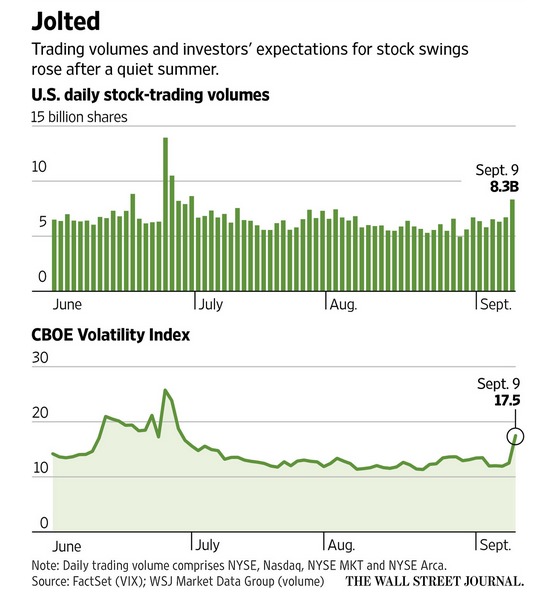 September Syndrome
What's going on?
For starters, there is a seasonal dynamic at work.
Consider: According to Bank of America Merrill Lynch data, the S&P 500 has dropped in September more than 56% of the time.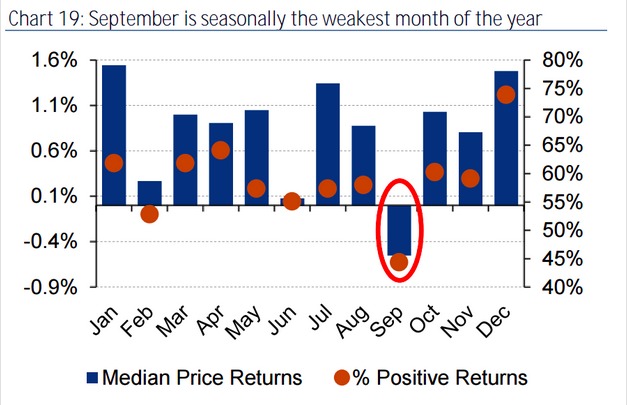 Weak Earnings
On top of that, stocks are at above-average valuations historically and U.S. corporate earnings and revenue growth has been anemic over the last year or so.
The US Federal Reserve Bank, in its twice-annual Monetary Policy Report, sounded the alarm earlier this summer about valuations:
"Forward price-to-earnings ratios for equities have increased to a level well above their median of the past three decades."
Pricey Valuations

Another closely watched metric, the cyclically adjusted price/earnings ratio, is also flashing red.

The so-called CAPE ratio is based on the S&P 500's current price divided by its average earnings over the past 10 years adjusted for inflation. Its latest reading is about 26.

That's way higher than the long-term average of about 16, according to data compiled by Robert Shiller, the noted American Nobel Laureate, economist and stock-watcher.
Central Banks
There are also signs that global central bank easing across the globe has lost its ability to light a fire under markets.
Doubts about central bank rescue missions increased recently as the European Central Bank held fire on new quantitative easing policy moves–and reports surfaced that the Bank of Japan may soon run out of available government debt to buy.

Finally, the US Federal Reserve is clearly far more interested in raising rates these days.

Boston Fed President Eric Rosengren, considered a dove on the board's policy committee, recently signaled a rate hike is on the horizon.
Takeaway
Add it all up, and the stage is set for a far more volatile stock market, in my opinion.
The summer market calm and record highs recorded by the S&P 500 and Dow were fun while they lasted.

But like all summers, at some point it's time to leave the beach and get back to work.
Photo Credit: Zooey via Flickr Creative Commons