The Federal Reserve held their September meeting and left interest rates unchanged.
The strength of the dollar and turmoil in the US and international markets gave the Federal Reserve pause.  
If they had raised, the dollar would have increased and depreciated emerging market currencies.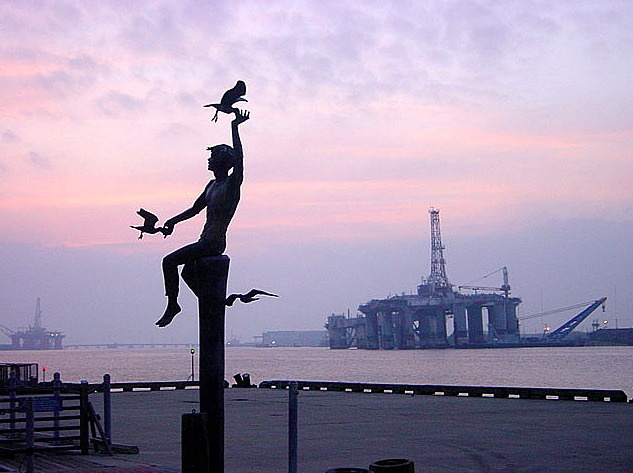 Inflation Target
Also, inflation is running below the Fed's goal of 2% on an annual basis.  
In addition, the August trade deficit widened due to the strength of the dollar and a drop in overseas orders.  
The two sectors hit the hardest are manufacturing and mining, which includes oil and gas exploration activity.  
Consumers
On the flip side, the American consumer is doing well.

In September, same-store sales increased 0.8% from a year ago. Additionally, new home mortgages applications are still strong.

As I have mentioned before, the strong dollar is part of the reason for the collapse of oil prices, which have been volatile as of late.  
Energy Plays
What does this mean for your investments?
If your time horizon is one to two years, I would buy energy companies with strong balance sheets when their stock prices come under pressure.
In my opinion, ConocoPhillips (COP), EOG (EOG), Range Resources (RRC), Concho Resources (CXO) and Continental Resources (CLR) are worth a serious look.  
The mid-stream market of the oil & gas sector has been sold off without good reason in my opinion and the same is true for Master Limited Partnerships.
Mid-Stream Plays
Yet these entities are less sensitive to swings in oil prices and they are investing in growth.
These companies have also brought on line new capacity for transporting, separating, storing and exporting the various produced products.  
They are building new pipelines to export to Mexico as well as bringing on line several Liquefied Natural Gas export terminals starting in the first quarter of 2016.  
For these reasons, we are bullish on Enterprise Products Partners (EPD), and Kinder Morgan Inc. (KMI). Their dividend coverage is very comfortable and they are able to pay for capital projects with cash flow.

Downstream
In the downstream sector, I like Phillips 66 (PSX), Northern Tier Energy LP (NTI) and Alon USA Partners LP (ALDW).  
In the chemical sector, in my opinion, Westlake Chemicals (WLK) and LyondellBasell (LYB) are showing good profit gains on a year over year basis and worth a look.
Consumer Plays
Consumer stocks with big domestic exposure in US are among our favorites. The names we like are Kroger (KR), Walt Disney (DIS), Home Depot (HD) and Tractor Supply Company (TSCO).  
Other companies we like in the consumer space are Wells Fargo (WFC) in the financial sector and Eli Lilly (LLY) and Bristol-Meyers Squibb (BMY) in the pharmaceutical sector.
Industrials
We are not adding new money to our industrials positions at this time, but we are not selling out of them either.  
These companies are holding up fairly well in spite of the strong dollar.  
We will continue to watch the dollar and to listen to their next quarterly reports.  Honeywell (HON), United Technologies (UTX), Emerson Electric (EMR) and Rockwell Automation (ROK) are the ones we like.
These investments may or may not be currently held in client accounts.The reader should not assume that any investments identified were or will be profitable or that any investment recommendations or that investment decisions we make in the future will be profitable.
Photo Credit: Martin Burns via Flickr Creative Commons