About a year ago, I discussed the ins and outs of fantasy football investing.
As I noted at the time:
"Investing is about finding the best company relative to expectations. Great opportunity comes from the gap between future probabilities and expectations. I believe the same principle applies to fantasy football."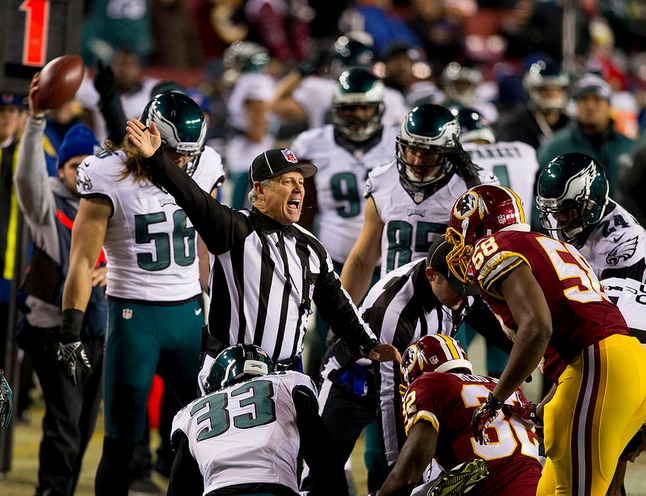 Peyton and Tesla
I wrote how in 2014 that Peyton Manning was overvalued like Tesla (TSLA) and I laid out the case for why he would not throw for 55 touchdowns in 2014.
Thanks to an injury and possibly age as well, Manning threw just 3 touchdowns in the final 4 regular season games and ended with 39 touchdowns for the year.
This year I'm going to present analysis on selecting running backs and again draw parallels for becoming a better investor.
Good Player, Bad Team
When selecting running backs, I prefer them to be on a good team.
A good offense provides additional scoring opportunities for running backs. Additionally, bad teams often fall behind and must throw to catch up.
For instance, I'd avoid LeSean McCoy, who has moved from a very good offense in Philadelphia to a below average offense in Buffalo this season.
Over the past 3 seasons, Philadelphia has averaged 4 scoring opportunities per game (red zone) vs. only 1.3 per game for Buffalo.
Tired Legs
Pro Football Focus and other websites have good data on the declining production of running backs as their career touches increase.
Going into this year Adrian Peterson, Marshawn Lynch, and Matt Forte are all ranked in the top 6 with each having more than 2100 career touches.
History indicates that roughly 1 running back with over 2,100 career touches will finish in the top 12 for the season.
So I'd avoid Matt Forte. His production running the football dipped last year and with Coach Marc Trestman gone he is unlikely to match his 800 reception yards from 2014.
Yards Per Carry
While we can't always predict how many opportunities a running back will get, yards per carry gives an indication of a runner's potential in an expanded role.
With Arian Foster injured, some experts are touting backup Alfred Blue as this year's "sleeper" pick.
Blue averaged an abysmal 3.1 yards per carry last season. An uptick in carries is unlikely to pay off this season.
Who to Draft?
There is one running back I particularly like who fits all 3 criteria: Lamar Miller.
He plays on an above average offense, has 514 career touches, and averaged 5.1 YPC last season.
So what does this have to do with investing?
Good Company, Bad Industry
The most obvious example when I think of this concept is Barnes & Noble (BKS).
Barnes & Noble's management has done everything they can to keep the ship afloat.
Nevertheless, the odds are stacked against them.
Amazon's (AMZN) superior business model has destroyed just about every other brick and mortar book store. Barnes & Noble is just experiencing a slow death as the strongest of the bunch.
Company Lifecycles
There are many different types of lifecycles and understanding them is key to seeking to avoid mistakes.
It could be Redbox kiosks (OUTR) giving way to customers' preferences for streaming video.
Perhaps it's a biotech company with major patent expirations looming.
Or maybe it's simply cyclicality and the automotive manufacturer with record sales will sink if the economy worsens.
We look at past data and try and project to the future but for some companies the past just isn't a good indicator because the company is in a cycle.
Return on Assets
Wall Street analysts love to talk about companies with amazing revenue growth but they rarely take the time to examine how that growth is achieved.
Did the company use profits to fuel organic expansion or did they just take on debt to expand revenue?
For the latter situation, ROA can be a helpful measure of how efficiently a company is running with its resources.
Takeaway
These points highlight the importance of the context of how results are achieved.
Can LeSean McCoy and Barnes & Noble have success in their difficult environments? My guess is no.
Instead, I prefer to avoid the red flags and take the odds with Lamar Miller.
May this advice serve you well. Enjoy the football season and as always, happy investing!
Photo Credit: Keith Allison via Flickr Creative Commons
The information contained herein is intended to be educational in nature and not in any way intended to be considered investment advice. Investment decisions should be made only after thorough review and research with your own professional advisors.  Past performance of any investment or index is not necessarily indicative of future results. Performance of any index or other statistic presented is not intended to represent any expectations for future performance. (CAMA140)