By now, you've probably had enough of talking head political pundits weighing the odds of Republicans taking control of the Senate.
And if you live in a swing state, you've no doubt heard candidates droning on about why the future direction of the country is hanging in the balance in this year's mid-term U.S. election.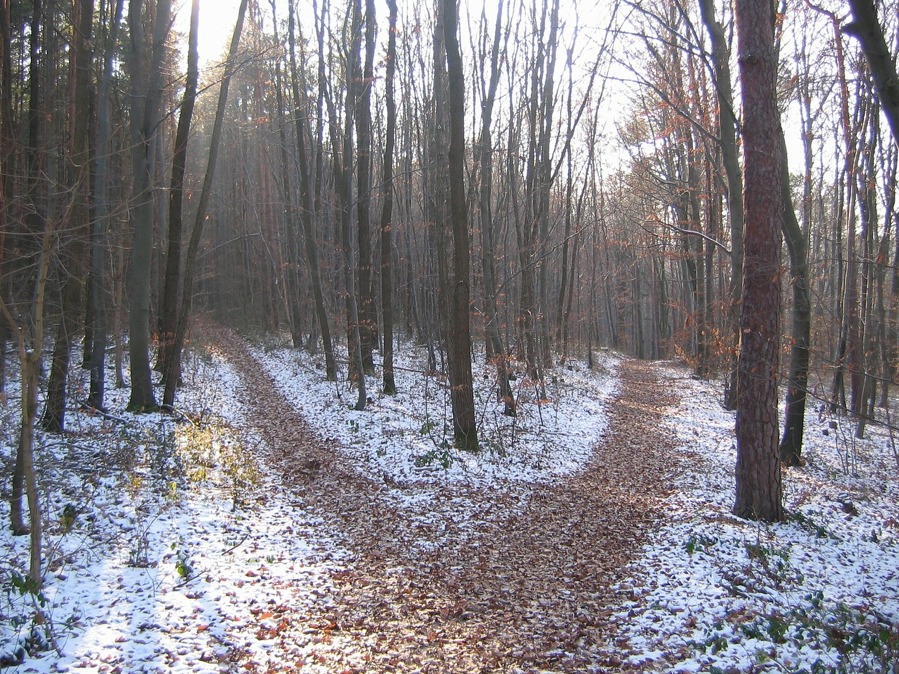 Post-election pop
What does this mean for investors?
Let's cut to the chase: It doesn't really matter if Harry Reid or Mitch McConnell runs the Senate.
While making investing decisions based on past market behavior is always risky, history shows that stocks usually head up in the 12 months following a mid-term election regardless of which political party prevails.
Sam Stovall, equity strategist at S&P Capital IQ, has crunched the numbers, going back to 1946 and the results are illuminating.
According his research, the S&P 500 Index has gained 15.3% on average the first six months after a midterm election.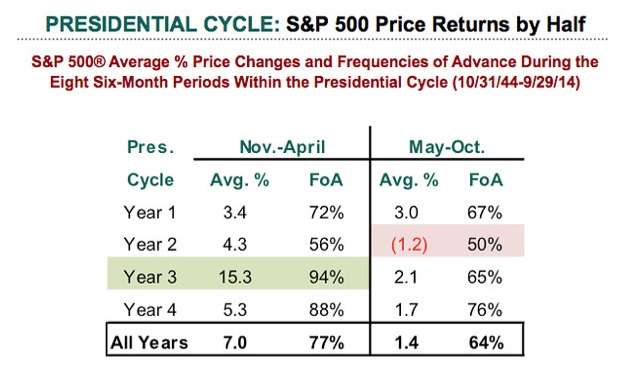 And that has happened 94% of the time, according to Stovall's research.
History repeats
Wait, it gets better.
In the 12 months after a midterm election, the S&P has averaged 17.5% average growth and has never declined going back to 1946. Never!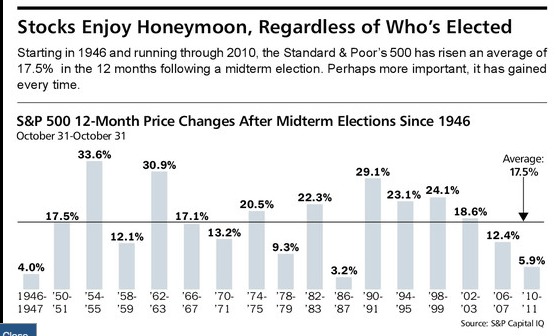 Bonds often enjoy a pop as well, according to S&P Capital IQ, averaging a six-month total return of 6.5% in eight of the nine midterm cycles since 1978.
Even if you don't buy the S&P analysis, others remain bullish on stocks regardless.
In a recent note to clients, Nuveen equity strategist Bob Doll sees stock market climbs ahead thanks to a U.S. economy that remains surprisingly robust.
"Although there are concerns to the contrary, the U.S. economy remains in acceleration mode, and we think there is little chance that we'll see either a recession or a deflation scare in the United States. Investors are coping with new issues that are prompting higher levels of volatility (such as Ebola and heightened geopolitical risks) but the state of the U.S. economy remains solid."
Horse race
For the record, here's the political situation heading into the Nov. 4 midterm election.
Most polls suggest a tough night for the Democrats, which seem poised to lose more seats in the House. In the Senate, many races are too close to call as is the outlook for which party will control the Senate.
Democrats have a 55-45 majority in the Senate. (To be precise there are 53 Democrats and two independents who caucus with the party). However, it's defending some 21 of 36 seats in contention, and 50% of those are in Republican friendly states.
DISCLAIMER: The reader should not assume that any investments identified were or will be profitable or that any investment recommendations or investment decisions we make in the future will be profitable. Past performance is no guarantee of future results.