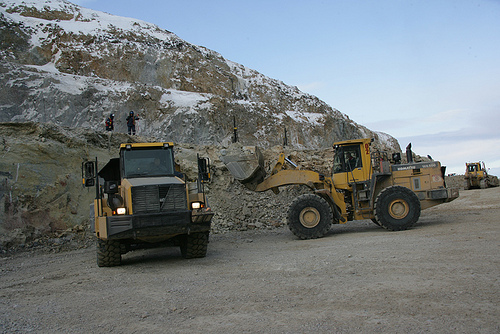 Gold miner stocks are showing signs of life early this year after being abandoned by frustrated investors in 2013. It remains to be seen whether the hated sector is on the road to recovery, but M&A activity could provide a boost.
For example, Allied Nevada Gold Corp. (ANV) shares rallied on Tuesday after a Chinese mining company announced a cash tender offer for all outstanding shares.
That tender offer came one day after Goldcorp (GG) announced a $2.4 billion takeover offer for Canadian miner Osikso.
Market Vectors Gold Miners ETF (GDX) was up about 7% year to date as of Jan. 13, although the fund traded lower on Tuesday. Market Vectors Junior Gold Miners ETF (GDXJ), which focuses on small-cap stocks, was up 11% for the same period. If consolidation does pick up this year, the most likely targets could be smaller miners.
Overall, gold miner stocks are attracting attention because the sector has been rebounding while the broader market as measured by the S&P 500 is off to a slow start this year. Mining companies were a disaster in 2013 with GDX losing more than half its value, and the miner stocks have consistently underperformed gold prices in recent years.
However, some technical analysts are seeing signs the beleaguered sector is on the mend after forming a base in recent months.
Chart source: Coe Report, Investors Intelligence
The recent bounce may reflect contrarian investors trying to time a bottom in gold miners, which has been like trying to catch a falling knife in recent years. Speculators could also be bargain-hunting in the sector as GDX has a price-to-book ratio of less than 1. Additionally, some investors view miners as a leveraged play on precious metals.
If volatile gold miner stocks do bounce back in 2014, the recovery could be choppy. For example, GDX has a three-year standard deviation of about 30%, compared with about 12% for the S&P 500, according to Morningstar. Standard deviation is a measure of historical volatility, or the tendency of a security to jump around in price.
David Levine, who manages the Aspect Large Cap Value portfolio on Covestor, started buying gold and silver miner stocks last month. For example, he owns Newmont Mining Corp. (NEM) and Pan American Silver Corp. (PAAS) in the portfolio.
"I want exposure to gold and silver," Levine said. "But I own miners instead because they can pay a dividend, appear cheap relative to their assets, and potentially offer more volatility to the upside if metals prices turn."
Photo Credit: Магадан
DISCLAIMER:  The investments discussed are held in client accounts as of December 31, 2013.  These investments may or may not be currently held in client accounts.  The reader should not assume that any investments identified were or will be profitable or that any investment recommendations or investment decisions we make in the future will be profitable.  Dividends reflect past performance and there is no guarantee they will continue to be paid.  Past performance is no guarantee of future results.