Factset crunched the numbers on the companies that preannounced guidance for Q4 earnings during October, and it ain't pretty:
The Q4 2012 quarter is on pace to tie the previous quarter (Q3 2012) as one of the most negative quarters for preannouncements on record. For Q4 2012 overall, 52 companies have issued negative EPS guidance, while just 16 companies have issued positive EPS guidance. As a result, 76% (52 out of 68) of companies that have issued EPS guidance for Q4 2012 have issued negative EPS guidance. If 76% is the final percentage, the Q4 2012 quarter will tie the Q3 2012 quarter (76%) as the quarter with the highest percentage of companies issuing negative EPS guidance since FactSet began tracking guidance data in Q1 2006.
Here's what this looks like on a sector basis: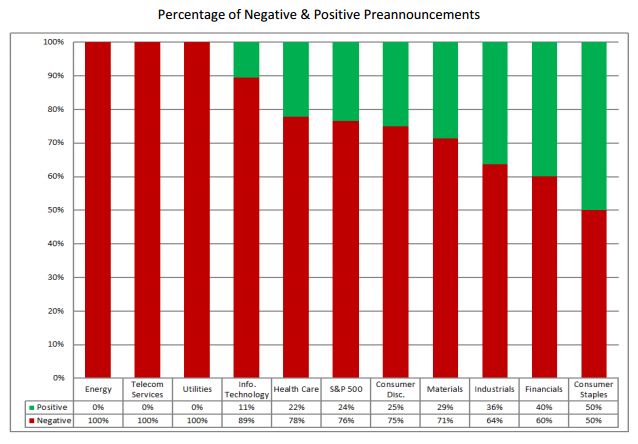 The two biggest concerns in the market right now are the looming fiscal cliff and these weakening earnings numbers. Mark Hulbert recently made a compelling 5-point case to push aside the fiscal cliff matter: "I submit there are bigger and more urgent things to worry about right now than whether our politicians in Washington do nothing between now and the end of the year to at least temporarily postpone jumping off the fiscal cliff."
For stocks, soft earnings guidance seems to be one of those more urgent things to worry about.