Regardless of who wins the presidency today, there's a good chance that the economy will continue to pick up speed in 2013. If so, there could be a massive shift of investor money out of bonds and into stocks.
That at least is the "Great Rotation" investment thesis of Bank of America analyst Michael Hartnett. Hartnett, in a recent report titled "The Bond Era Ends," points out that the robust equity rally on Wall Street means stocks have outperformed bonds over both a one and a three-year period.
As the housing market recovers, the economic recovery will strengthen, making stocks even more attractive according to Hartnett. "If bond yields begin to rise alongside homebuilder and bank stocks, a major asset allocation shift would be warranted, in our view," he argues.
Once the presidential election is over (and regardless if Obama or Romney wins) the markets focus will shift to fiscal cliff debt talks—and that may also be negative for bonds.
The next president and Congress need to strike a broad deal on spending cuts and tax hikes to avoid $607 billion in automatic spending cuts, which may increase volatility in bond prices, according to a study by Bloomberg Government (subscription required). BGOV notes that the Bank of America Merrill Lynch's MOVE Index, which uses options prices to forecast swings in Treasury bonds across a range of maturities, is flashing more volatility ahead.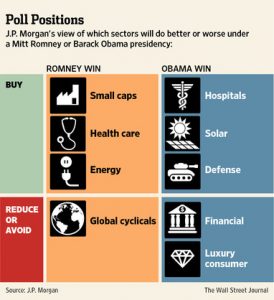 Mutual-fund investors have poured $195.5 billion into long-term bond funds in the first nine months of this year, according to data from the Investment Company Institute. The amount invested in these funds grew to $2.8 trillion as of Sept. 30, from $2.3 trillion a year earlier, according to BGOV. Hartnett thinks the great rotation out of bonds and into stocks will take place during the spring of 2013.
Meanwhile, who resides in the White House will matter much more to stock investors, according to analysts. The Wall Street Journal ran an interesting piece pointing out that markets have rallied in the first year of a new president's term in four of the last five cycles and ran sector picks from JPMorgan Chase (JPM) depending on which party runs the country during the next four years.
Here's my recent take on the subject. If history is any judge, stock investors tend to fare better under Democratic Administrations.