Online retailer Amazon (NASDAQ: AMZN) launched a cloud-based music locker on Wednesday. From the company's press release, the service is designed to
enable customers to securely store music in the cloud and play it on any Android phone, Android tablet, Mac or PC, wherever they are. Customers can easily upload their music library to Amazon Cloud Drive and can save any new Amazon MP3 purchases directly to their Amazon Cloud Drive for free.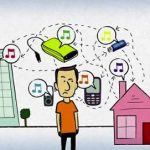 From Reuters:
Amazon's vice president of movies and music Bill Carr said the service would spare users from having to save their music files on multiple players and move those files around.

The company said customers would initially get 5 gigabytes of free storage. The cost for additional storage will be $1 per gigabyte, according to Amazon's website. A customer can get an upgrade to 20 gigabytes with the purchase of any album in MP3 format bought from Amazon.

But new music purchases from Amazon saved directly to the cloud service will not count against any storage quota.
There are some legal questions regarding Amazon's new service:
People in the media business have said that under certain conditions, Amazon may be able to offer some kind of locker without obtaining additional licenses beyond those they already have for their digital-download store.

However, such a system would likely need to be very basic, requiring compromises that might reduce its appeal to consumers. For instance, it might not be possible to let users access their collections from smartphones or other mobile devices.
What does this mean for the industry? According to Staci Kramer of paidContent.org:
On the macro level, Amazon notches some points for getting to the cloud ahead of Google (NASDAQ: GOOG) or Apple (NASDAQ: AAPL). It also makes Amazon more important than Google to Android users when it comes to music, at least for now. Most important, it gives Amazon the music equivalent of Kindle, or at least the start of one—meshing its store, access and storage all in one.
Covestor's Mid-Cap Fundamentals portfolio is long AMZN, while Bottom-Up Analysis and Bottom-Up Analysis Agg are short AMZN (all as of 3/28/11).
AMZN closed down 0.95% on 3/28.
Sources:
"Introducing Amazon Cloud Drive, Amazon Cloud Player for Web, and Amazon Cloud Player for Android" Amazon.com, 3/29/11. http://phx.corporate-ir.net/phoenix.zhtml?c=176060&p=irol-newsArticle&ID=1543596&highlight=
"Amazon to offer service for remote access to music" Reuters, 3/29/11. https://www.reuters.com/article/us-amazon/amazon-faces-backlash-over-music-locker-service-idUSTRE72S13H20110329
"Amazon Plans 'Locker' to Store Music, Video" Ethan Smith. Wall Street Journal, 3/29/11. http://online.wsj.com/article/SB10001424052748704559904576229222176957398.html
"Amazon Launches Cloud Drive And Cloud Player For Music; First Look" Staci Kramer. paidContent.org, 3/29/11. http://paidcontent.org/article/419-amazon-launches-cloud-drive-and-cloud-player-for-music/