Fortune Finance reported Friday that Bank of America (NYSE: BAC) was about to get serious about the measures it's taking to revamp unpaid loans with its mortgage modification program and foreclosure activities. In order to do so, BAC has formed a new department, called the Legacy Asset Servicing Unit.
This move comes months after BAC was hit by a maelstrom of bad press for unfair evictions as a result of robo-signers rubber stamping foreclosure paperwork for the bank without actually verifying that it was correct. Unfortunately, it seems that investors have little faith in BAC's new unit, and shares fell from $14.43 to $14.29 on Friday. Over the weekend, BAC agreed to a $410 million settlement on lawsuits that claimed the bank had been deceptive in managing client accounts and therefore charged excessive overdraft fees, so it will be interesting to see how this affects its stock price on Monday.
Citigroup (NYSE: C), Wells Fargo (NYSE: WFC) and JPMorgan Chase (NYSE: JPM) were also adversely affected by the robo-signer kerfuffle, but only JPM was down on Friday–from $45.46 to $44.59. WFC was up from $32.75 to $32.76 and C was up to $4.82 from $4.81.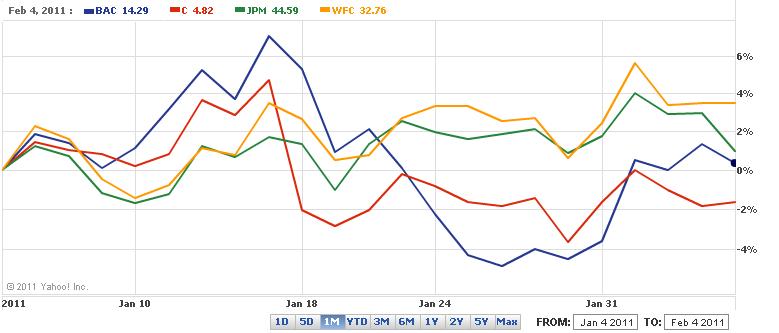 Covestor models with exposure to this sector include: Value with Catalyst, Financial Services, Bottom-Up Concentrated, TenStocks and South America.
*Prices and charts courtesy of Yahoo Finance.