Financial stocks were hit hard today after Goldman Sachs (NYSE: GS) announced revenues that missed analysts' expectations. On average, analysts had anticipated $39.49 billion in net revenues for 2010, but at $39.16 billion, GS' actual results were lower. GS's EPS was down from 2009 but did beat analysts' expectations. That wasn't enough to reverse the negative trend and GS fell from $174.68 to $166.03.
Despite reporting revenues that exceeded analysts' expectations, Wells Fargo (NYSE: WFC) also dropped from $32.49 to $31.81.
Losses stretched across the sector, affecting Regions Financial (NYSE: RF) which fell from $7.55 to $7.13, Northern Trust (NASDAQ: NTRS) which dropped from $55.64 to $52.49, Bank of America (NYSE: BAC) falling from $15.00 to $14.37 and Hudson City Bancorp (NASDAQ: HCBK) which had a marked drop from $13.16 to $12.04 despite announcing a quarter four 2010 EPS that beat analysts' expectations.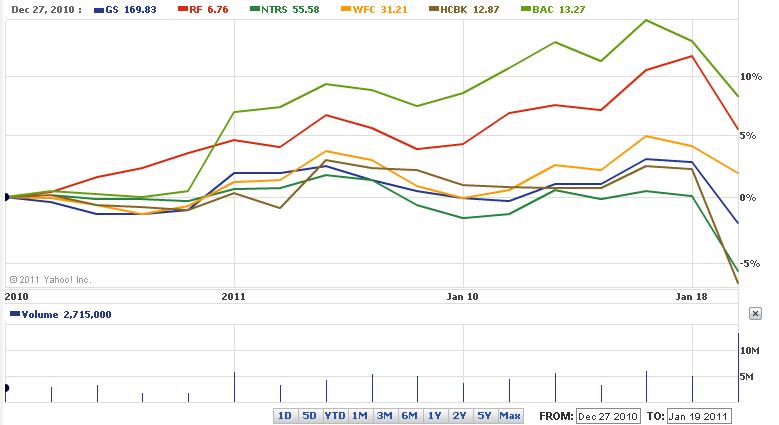 Covestor models with exposure to this sector include: Bottom-Up Analysis, Financial Services, Bottom-Up Analysis Agg, Core, and Technical Swing.
*Prices and charts courtesy of Yahoo Finance.