Model manger Jeff Philips is a Harvard University graduate and a former division finance manager for Wells Fargo. This month he added a few new positions to his Long-Short Equity model, including Exide Technologies (Nasdaq: XIDE). XIDE had a big jump in price between November 1st, when it closed at $5.84, and November 5th, when its closing price had risen over 25 percent to $7.43. Two important press releases were issued during that time. The first was the announcement of an alliance between XIDE and Northstar Battery, allowing XIDE to expand its transportation battery product offerings. The second release, issued on November 4th, discussed the company's financial results for quarter two 2011, which included a 120 percent increase in EBIT from the same quarter of the previous year. XIDE has been on many stock blog watch lists since this uptick and the stock price is still on the move, following a brief decline on December 17th.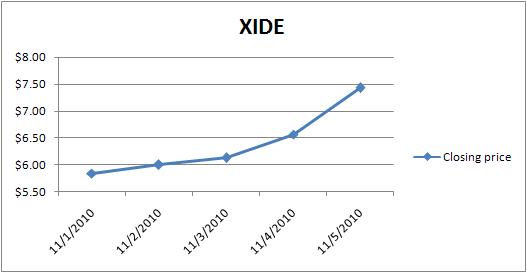 Chart data: Yahoo Finance https://finance.yahoo.com/quote/XIDE?ltr=1); Chart by Covestor
Philips also added Hypercom Corporation (NYSE: HYC) to the model this month. HYC's price jumped over 50 percent in just one day during September—from a closing price of $4.23 on September 29th to $6.50 on September 30th. This occurred after they announced that one of Germany's top electronic payment service providers had started marketing HYC's terminals for healthcare payments.  This terminal allows German doctors and other medical providers to accept electronic payments in their offices, something they couldn't do before now. In November HYC was bought by rival VeriFone. This month, they were downgraded by analysts at Barclays Capital from buy to neutral.
*All price information courtesy of Yahoo! Finance.
---