This election cycle hasn't been lacking in melodrama.
First, there's the surprise emergence of real estate developer and reality tv show host Donald Trump as the presumptive Republican presidential nominee.
Then there's the difficulty Democratic front-runner Hillary Clinton has had winning her party's nod in a convincing way.
So what does this all mean for the stock market?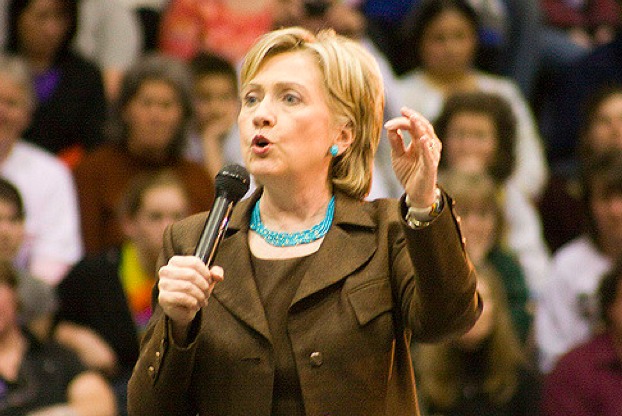 Historical Trends
First, the good news. Broadly speaking, according to an analysis by Piper Jaffray, stocks tend to do well in the second halves of election years.
The S&P 500 has risen 3.5% in the third quarter of an average election year, as data compiled by the firms show.
On top of that, there is usually an additional 1% return in the fourth quarter.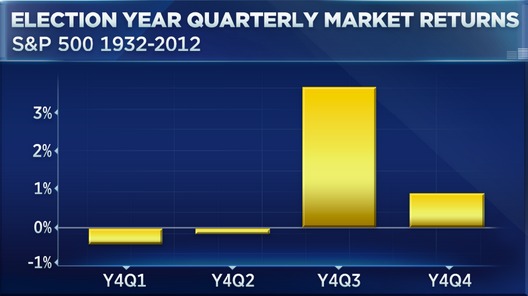 Policy Divergence
Dig a little deeper, though, and a different picture emerges.
Another school of thought is that stocks could face a rough stretch the rest of the year.
The reason: Investors are anxious, if not baffled, about the policy outlook going forward.
There's huge uncertainty about the future economic policies of Trump, who tends to pivot in a lot of different directions when it comes to details.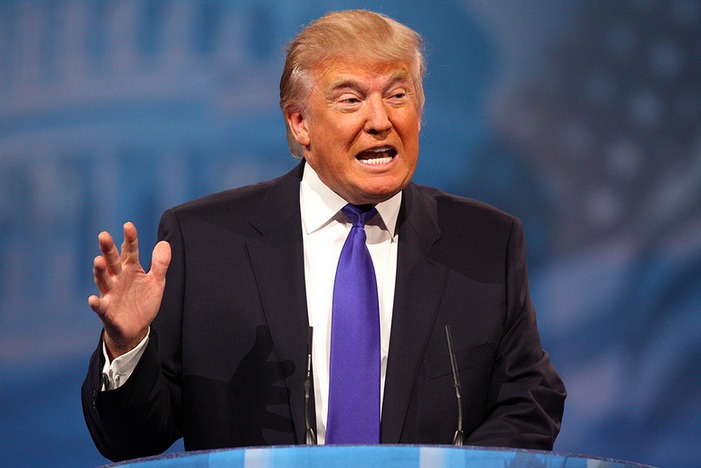 Open Elections

And there are big differences between the two candidates when it comes to taxes, trade and immigration.
There's a wealth of academic and Wall Street research linking political and policy uncertainty to poor stock market performance, according to a recent post by the Wall Street Journal.
In open-election years, in which there is no incumbent seeking re-election, stocks tend to perform weakly.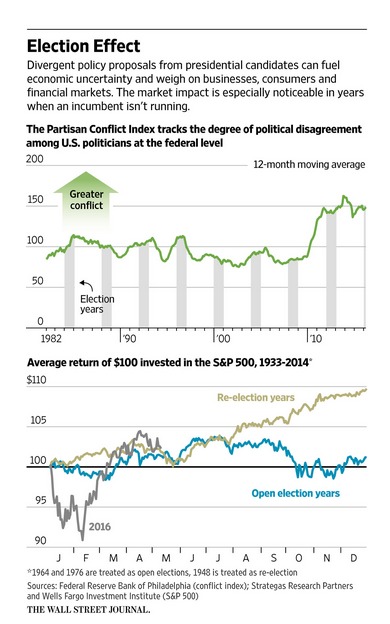 Off Cycle
Interestingly enough, the dynamic is completely different during midterm election cycles.
Sam Stovall, equity strategist at S&P Capital IQ, has crunched the numbers, going back to 1946 and the results are illuminating.
According his research, the S&P 500 Index has gained 15.3% on average the first six months after a midterm election.  
Takeaway
This election cycle is shaping up to be one of the most unpredictable in decades.
That's great for political junkies–not so good for investors.
Until there's greater clarity over the future direction of tax, trade and immigration policies, I think investors will be stumbling around in the dark.
Photo Credits: Jonathan Lidbeck and Gage Skidmore  via Flickr Creative Commons