Forecasts of a continuation of last year's move higher in interest rates and a "great rotation" from bonds to stocks were embraced as gospel by many investors heading into 2014. However, fund investors have quickly jumped back into bonds amid the unexpected decline in Treasury yields despite the Federal Reserve taper.
Falling Treasury yields and higher bond prices so far this year suggest investors are getting worried about economic growth and seeking safe havens.
10-Year Treasury Note Yield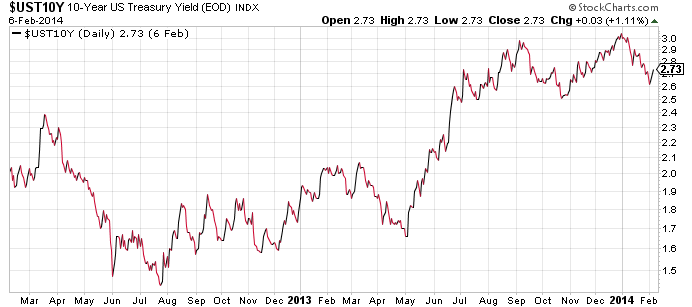 Also, the latest weekly mutual-fund flows reveal that the recent weakness in U.S. stocks had investors running for the exits in equity funds and piling into bond funds.
Source: Kimble Charting Solutions
Meanwhile, investor surveys show that the minor pullback in stocks has caused an oversized reaction bearish sentiment.
Source: Kimble Charting Solutions
The extreme reactions in fund flows and sentiment suggest investors are still wary of the stock market after the financial crisis.
A 5% correction in the S&P 500 is enough to trigger record weekly inflows to the perceived safety of bond funds. It's just another reminder that many remain skeptical about the economic recovery, and how sentiment can turn on a dime these days.
Fund investors also continue to flee emerging markets. So far this year, emerging market equity funds have seen outflows of $18.6 billion, compared with a $15.2 billion for all of 2013.
"A lot of retail clients have been calling their brokers all concerned," said Rick Fier, director of equity trading at Conifer Securities, in a WSJ.com report. "Five weeks ago, they were bullish, bullish, bullish."
"Recent figures spooked people into thinking global growth is not as good as expected, so they sold off on equities and went into safe havens," said Daphne Roth, head of Asian equity research at ABN Amro Private Banking, in a separate Bloomberg report.
Disclaimer: The information in this material is not intended to be personalized financial advice and should not be solely relied on for making financial decisions. All investments involve risk and various investment strategies will not always be profitable. Past performance does not guarantee future results.