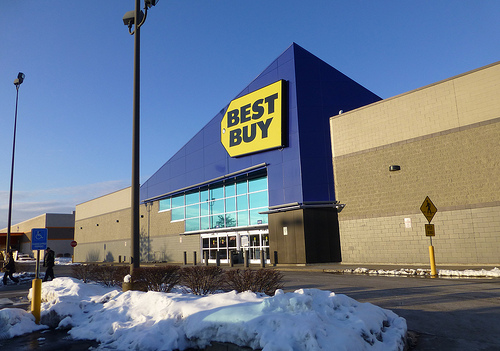 Retail stocks have been outstanding performers since the 2009 bottom, but the sector's recent weakness has raised questions about the economic recovery and overall equity market.
SPDR S&P Retail (XRT) is down more than 5% year to date and is one of the worst-performing sector ETFs so far in 2014.
The recent news from the retail sector hasn't been good either. Best Buy (BBY) shares plunged nearly 30% on Thursday after the company announced disappointing holiday sales. J.C. Penney (JCP) said it plans to close more than 30 stores as the retailer continues to struggle with its turnaround efforts.
The retail sector's slide underscores several crosscurrents in the market and economy, says Charles Sizemore, who manages several portfolio on the Covestor platform, including the Sizemore Global Macro portfolio. One trend is the uneven nature of the economic recovery.
"When the financial crisis first hit, some called it a rich man's recession because the wealthy were hit first. However, that's turned out to be a huge lie," he said. "The wealthy recovered quickly, but in the aftermath the working class has suffered. We're officially out of recession yet the economy is limping along, and unemployment is highest among the young, uneducated and lower-income classes."
The turbulence in retail stocks is attracting attention because the sector has consistently outperformed in recent years. For example, SPDR S&P Retail ETF has a five-year annualized return of about 35%, compared with nearly 20% for the S&P 500, according to investment researcher Morningstar.
"There are many ways to slice and detail retail; it's a very broad sector," Sizemore added. "You have discount retailers, luxury, online, consumer staples, discretionary, and brick and mortar, for example. Recently, you have seen traditional discount retailers warning that their key clientele are hurting due to stagnant salaries and unemployment. Meanwhile, luxury brands are doing better."
The portfolio manager said Wal-Mart (WMT) has been warning that a weak economy is hitting its lower-income consumers particularly hard.
Additionally, retailers such as Best Buy are feeling the pinch of online competition such as Amazon (AMZN).
"A tough economy can accelerate trends such as online shopping," Sizemore said.
Photo Credit: Nicholas Eckhart
DISCLAIMER: The investments discussed are held in client accounts as of December 31, 2013. These investments may or may not be currently held in client accounts. The reader should not assume that any investments identified were or will be profitable or that any investment recommendations or investment decisions we make in the future will be profitable. Past performance is no guarantee of future results.