The PC is dead. Long live the tablet! Well, not quite.
According to a new forecast by the International Data Corporation (IDC) Worldwide Quarterly Tablet Tracker, tablet shipments are expected to exceed those of portable PCs by year end. And by 2015, tablet shipments should surpass both portable and desktop computers.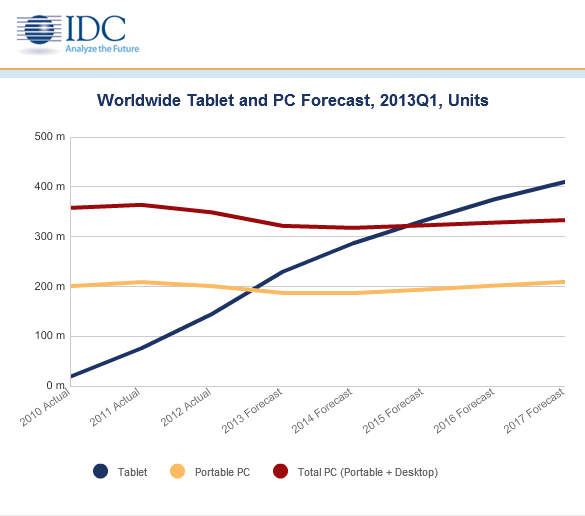 The dethronement of PCs seems well underway, much to the chagrin of Dell (DELL) and Hewlett Packard (HPQ). While PC sales have been in a death spiral, tablet shipments are expected to grow 58.7% year-over-year in 2013, reaching 229.3 million units, up from 144.5 million units last year, according to IDC.
As Ryan Reith, Program Manager for IDC's Mobility Trackers, puts it:
What started as a sign of tough economic times has quickly shifted to a change in the global computing paradigm with mobile being the primary benefactor. Tablets surpassing portables in 2013, and total PCs in 2015, marks a significant change in consumer attitudes about compute devices and the applications and ecosystems that power them.
Yet companies in the tablet game, be it hardware or the devices operating software—Apple (AAPL), Google (GOOG), and Microsoft (MSFT), aren't necessarily going to have an easy time of it.
For one thing, the field is getting crowded and that's placing downward pressure on pricing. According to IDC's data, worldwide average selling price for tablets is expected to decline 10.8% to $381.
Also, consumers seem to be taking the less-is-more approach when shopping for tablets. There is a big preference for smaller screen devices. The sub 8-inch category, led by Apple's iPad mini, has overtaken the larger-sized segment in terms of total shipments. Check out this interesting graphic from Statista: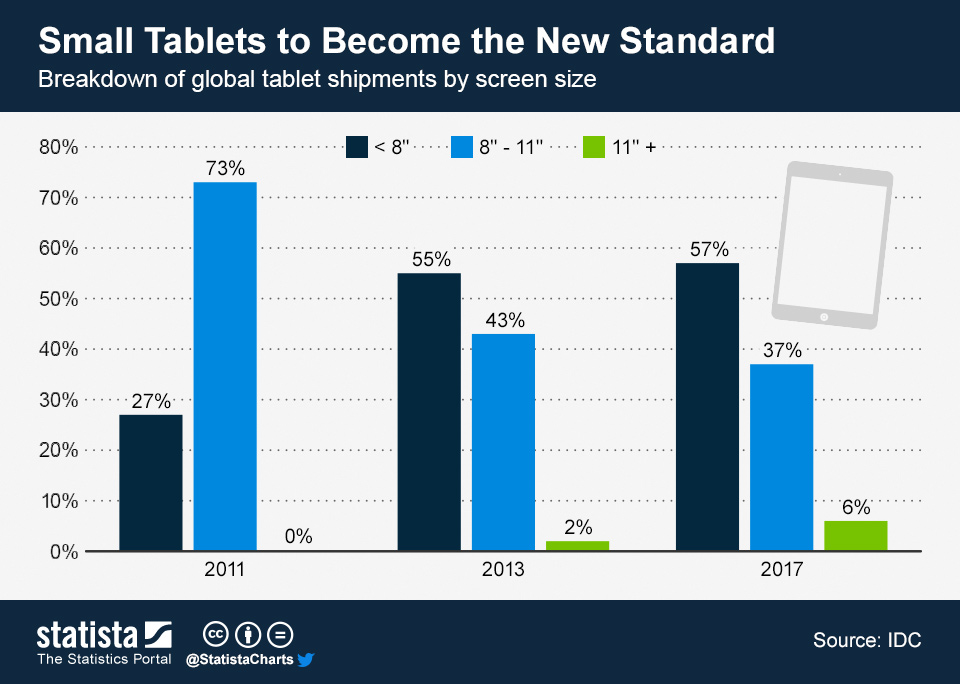 Meanwhile, Bloomberg has a piece out today that Microsoft is lowering the price of its Windows software for small tablets, suggesting that it's struggling to find its place in the new era. (The company's Surface tablet also hasn't met expectations. )
Microsoft has been trying with mixed success to get manufacturers to adopt Windows RT, a version of its flagship software for tablets. According to Bloomberg, the price cuts affect Windows RT for small-sized tablets. Apple and Google have huge leads in the $64 billion tablet market.
If you want to get a sense of how crowded the tablet market is becoming, check out Andy Smith's recent slide show detailing product announcements from the Mobile World Congress earlier this year.
Photo Credit: C. Regina
The investments discussed are held in client accounts as of May 31, 2013. These investments may or may not be currently held in client accounts. The reader should not assume that any investments identified were or will be profitable or that any investment recommendations or investment decisions we make in the future will be profitable.