Investors have seen tremendous damage to their portfolios in 2008. With a return of -45.5% for the S&P 500 since 21st Nov 2007 it has not been an easy year in the market.
Last week the New York Times pointed out that the S&P 500 could have its worst year on record,  surpassing even the 1930s crash during the great depression. This graph from the article depicts just how poorly the market has performed.
(The S&P 500's performance year to date)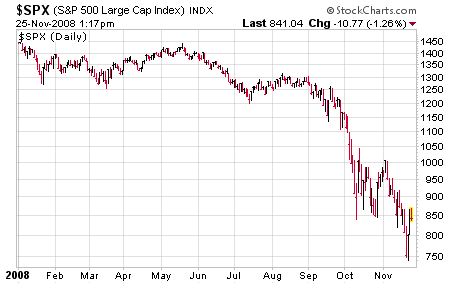 Not all Covestor members have suffered the same fate. Five members have over 100% returns for the past 12 months, while five others have seen over 50% returns on their portfolios in the same period (numbers as of close Nov 14th, 2008):
TimothySykes, +2,214.25%
SAInvestor, +283.99%
zhouwe, +143.83%
retire48, +111.47%
dryben, +100.03%
sunshine_micha, +69.42%
itstypical, +68.49%
tallandskinnyguy, +58.83%
silkysmooth101, +56.23%
tabrizicracker, +54.56%
The rankings page lists all the top Covestor users and breaks them down based on customizable criteria such as size of portfolio, number of holdings, or sharpe ratio.
Even if the S&P 500 sets a record low performance for Calendar year 2008 there are still brilliant self directed investors out there that you can track live and for free on the site