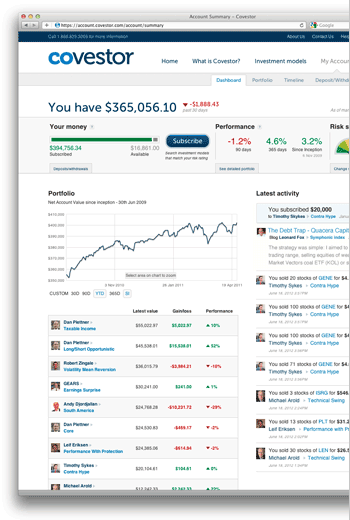 Over the past few months, we've been working hard on a number of platform enhancements and product upgrades, based on the feedback we received from clients.
Earlier this year we revamped our website to make it easier for you to sort through models available for subscription and to get a clearer view of a range of performance and risk metrics.
I want to thank our clients for their continued support and provide an update on what else is coming down the pipeline shortly:
Lowering the minimum subscription fees you pay
We are lowering the minimum subscription fee to USD 5.00 per model per month from the current USD 12.50 per model per month.
Upgrading your Client Dashboard
We will be rolling out an upgrade to your dashboard shortly. The new, simplified dashboard emphasizes what you need most: a quick and easy way to keep track of how subscriptions are performing, plus a more comprehensive way to learn your model managers' thoughts and opinions about both the positions they own and the broader market.
Expanding the selection of models available for your retirement accounts
We're more than doubling the number of models available for subscription in retirement accounts, from the current 35 to over 90. You will be able to subscribe to a wider selection of models, as long as the strategies they employ do not use margin at the account level and fit your objectives and goals.
In addition to these upgrades, we have a lot more planned to improve your experience on Covestor.
If you have any feedback or suggestions, as always, please don't hesitate to get in touch with our Client Relations team on clientrelations@interactiveadvisors.com or 1.866.825.3005